The Relacha Teapot in Genshin Impact is your own magical paradise in a teapot. Learn how it works and see some tips on how to build your home.
Added in version 1.5 of the game, the Genshin Impact Beaker is a new game mechanic that allows travelers to build a magical paradise within an interdimensional space that only exists inside a teapot created by the power of the adepts, the demigods present in the nation of Liyue.
For those who played Chapter 1: Act 3: "A New Star Is Approaching", he is already familiar with the Teapot, as we visit the paradise created by Madame Ping to fetch an item that will be used during the funeral of the dragon Rex Lapis and see the grandeur of the place created by the old lady. Now, it's your turn to create your own world with the power of the adepts and collect incredible rewards.
Cosmic and phenomenal powers, inside a bulezinho
In order to free up your access to the Relacha Teapot in Genshin Impact, you must meet the following requirements:
Be Adventure Rank 35 or higher;
Having completed the main mission of Chapter 1: Act 3: A New Star is Approaching.
That done, you have to play the mission "A Teapot to Call Home", where we will meet the new character Yanfei and set out on a journey to defend the consumer's right (she is a lawyer! What did you want? Kill monsters?) and receive the Relacha teapot at Genshin Impact. Mission completed, then, let's go inside.
Sweet teapot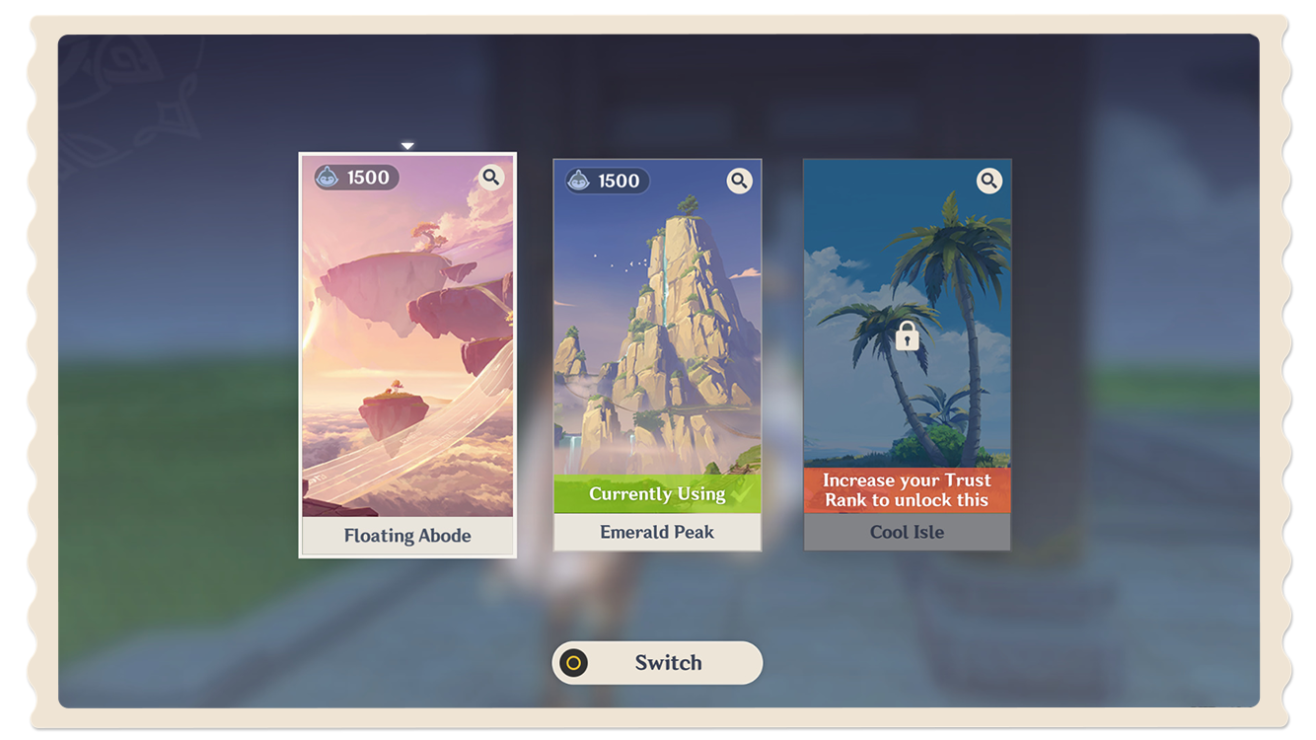 To enter the teapot is easy, the game screen itself will give you the instructions. Just open the inventory and go to the Accessories screen (where you can find things like your Catalyst and your pets like Seelie) and select the Teapot. So, put him in the world and enter. As soon as you log in, the game will present you with three paradise layout choices:
Floating Housing: The most common layout of domains involving fans. Those floating islands connected by magic bridges;
Emerald Mountain: Liyue-style layout. Mountain peaks connected by wooden and rope bridges;
Icy Island: This is the most common design in Mondstadt. An island surrounded by the ocean;
With your chosen layout (don't worry if you don't like it, as you can change it later) you will have one more opportunity to see Paimon irritated, so enjoy. That done, go talk to your butler, the spirit of the teapot called Tubby. He will explain the basic mechanics of the teapot, about how to build and how to evolve your paradise. We will give you some tips for you to build your paradise.
Starting your world
To start building things for your paradise you need the construction diagrams and materials and with them start to decorate your home in the Relacha Teapot in Genshin Impact.
Materials are, in general, paints, fabric and wood. There are several types of wood to collect in Teyvat, from pine wood, bamboo and others. To get wood just hit the trees of the world and you will get up to three units of the wood that the tree drops. To find out which trees drop the types of wood you need, just consult the miHoYo official interactive map.
Fabric and paints can be made directly on the canvas where you build the furniture and decorations. To make fabric you will use silk flowers and for yellow, blue and red inks, you can use different materials such as Guincho de Lobo or Mint for blue, Valberrys and Carrots for red and Berries or Color Pencils for the yellow one.

Tubby's supplies store also sells fabric, but it doesn't pay to buy it, as it's very easy to do. But, in the store you can buy the diagrams of the furniture and decorations. They are the ones you will use to build your objects that will be placed in the world. Just buy the diagram, open your inventory and use it. So you will learn how to make the object and you can build it.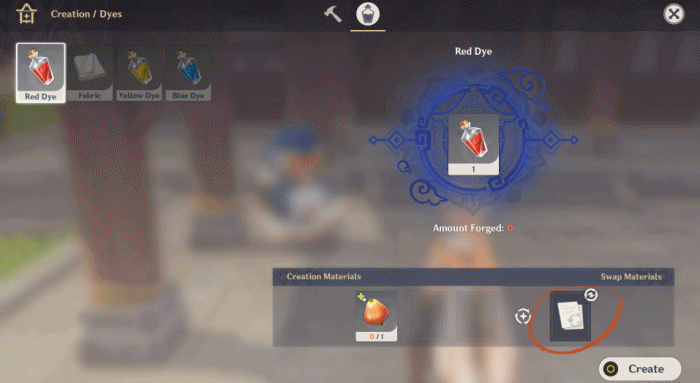 Confidence level and the strength of the Adeptus Treasury
Tubby's confidence level is one of the most important points in building your personal paradise at the Relacha Teapot in Genshin Impact. The level of confidence influences how much coins of paradise you will receive from Tubby daily, how much furniture can be made at the same time and how much decorations and objects you can place in your world.
To increase Tubby's confidence level, you need to make new furniture. When making a piece of furniture or decoration for the first time, you will increase the confidence level of the butler, and with that, you will be able to place more decorations in your world and also increase the comfort level of your paradise, called the Adeptus Treasure Force. With the highest Comfort level, you will earn more coins from paradise daily and will be able to buy more diagrams to make new furniture and increase confidence.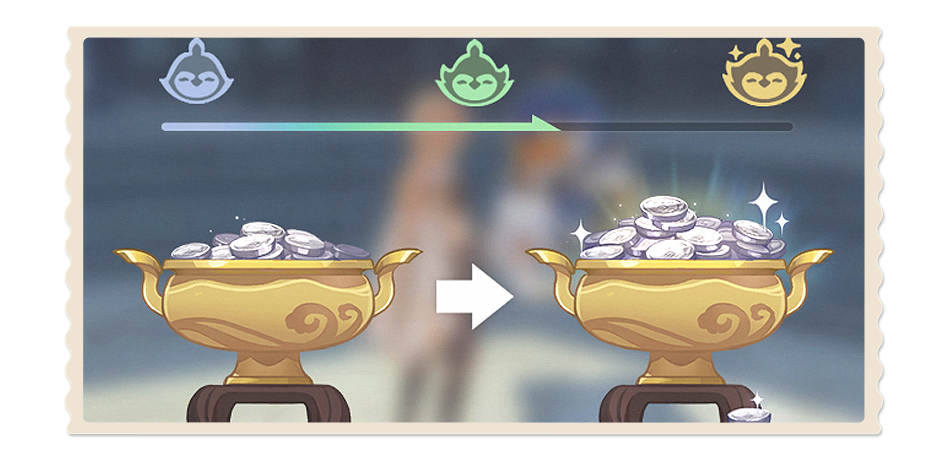 By increasing one status, you can improve the other and, with that, make your Beaker in Genshin Impact better and better.
Each piece of furniture or decoration has a "weight" and your paradise has a maximum weight limit. For example, a dog or cat has a "weight" of 100. If you put too many animals in a short time, you will have reached the limit of your world. Each space in the world has a limit of items that can be placed, but these spaces are individual for each environment.
You have a limit for the external space, one for the living room and three bedrooms. Each decorated individually, but some spaces have less capacity than the others. For example, the living room is the largest internal space in the main house. With the increased confidence level, you will not only have more space, but you will also have more islands to furnish and build.
Do you play Genshin on your cell phone?
Playing an Action like Genshin on Mobile is not easy! The precision of movements and the screen that can fail at time H hinder its performance. So why not buy a controller for your cell phone and enjoy the game for real? Enjoy and go and get your Ipega and stop blaming the lag!
At level 5 and level 7 you will gain access to new islands to decorate and reaching level 10 of confidence of the spirit, you will be able to change the layout of your world. So, if you have chosen the Cold Islands and want to move to Floating Dwellings, you can do so.
Treasure of Magic Paradise
In addition to the diagrams, the Espírito do Bule store also sells ready-made decorations and other items that can be purchased by releasing level 8 of trust. Among the items are materials for upgrading weapons and experience, in addition to housing and resins. A novelty is that you will also be able to purchase items that provide experience for your artifacts, such as the Sanctified Ointment and the Sanctified Essential.
In the decoration part, you can buy decoration items for your paradise that are ready, regardless of the diagram. However, these items can only be used once and do not give points of confidence, unlike the diagrams that provide experience to the Spirit of the Teapot and can be done multiple times.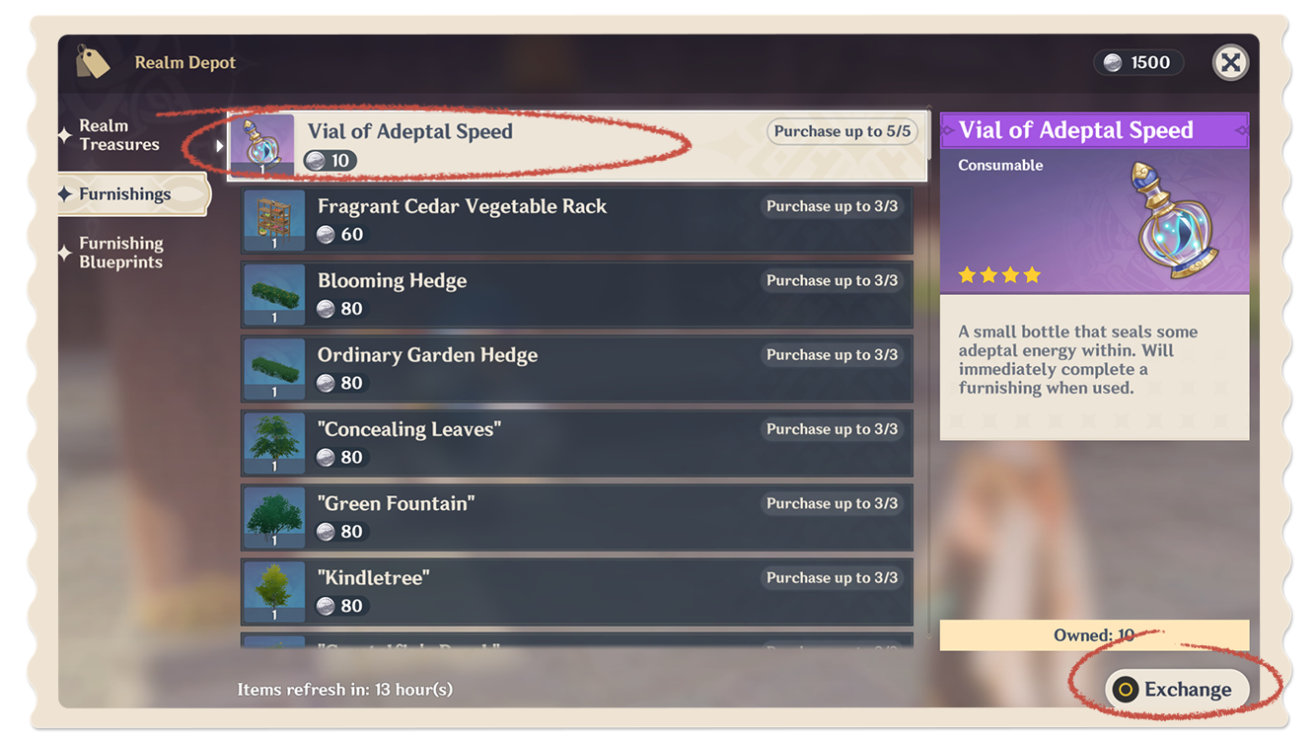 This is where you will buy the Speed ​​Vials, items that speed up the process of building decorations. Buy them every day as they will be important for you to earn trust points and are not cumulative.
Construction Parchment
Similar to the Adventurer's Handbook, the Beaker in Genshin Impact brought a scroll of challenges with varying levels of evolution. This scroll has several tasks to be performed and with each level you advance, it can give you new diagrams, Flasks of Speed, decoration items and even primogens.
Meeting the challenges will also give you several diagrams of sets, which are decorations that are put together and give more points of confidence, in addition to being easier to look good when placed in your home.
Building decorations
To build, having the diagrams just talk to Tubby and choose the option "Make Furniture". In the beginning, you will only have one slot for creating objects. By increasing the confidence levels to levels 2, 4, 6 and 9 you will unlock a new creation slot. These decoration creation slots are independent of the material creation slots.
Each piece of furniture takes about 14 hours to complete, but every day you can buy up to five items of building acceleration. Buy them daily and don't be afraid to spend them, because in the beginning, you need to maximize confidence with Tubby to release more diagrams and more decorations. Don't skimp on acceleration items.
Another way to speed up construction is through friends. If your friends enter your paradise, they can speak to Tubby and speed up the construction of the items within 4 hours. You can do the same by going to your friends' world and speeding up their item creation process.
Traveling Spirit
During the weekends your Bouncer Teapot in Genshin Impact will be visited by the Traveling Spirit called Chubby. He is an owl in a teapot, just like Tubby, and will sell exclusive items. An example of differentiated items that Chubby sells are pets, such as herons or wild boars. It is a unique opportunity to buy an exotic pet.
This spirit will be available to you throughout the weekend, and on Saturdays and Sundays, not only will you be able to buy items with it. Your friends who visit your teapot will also be able to buy items available in the Traveling Spirit of your Relacha Teapot.
One thing to note, the game included a new mission in the weekly Battle Pass which is the task of buying up to two decorations in the Traveling Spirit of the world from other players. That is, other players who visit your world can also purchase items within your world. And these items are not exclusive. They are the same for all players.
This means that if you don't buy an item, it will be available there for another player to buy! So, it is good that you enjoy and buy what you want, because if not, it may not be there when you return.
How do I get out of here?
A common question is: How to get out of the Relacha Teapot in Genshin Impact. Yes, at first some players were unsure how to get out of the pot. But, it is quite simple. Open the Map and click on the bottom right corner, where the name of the layout you chose and a teapot icon is written. There, it will open the option to see the map of the teapot or the map of Teyvat.
So, choose the world map and teleport anywhere. You will return to the world and you can continue the game. Another way is to simply place the teapot in the world and choose the option to exit, just like you do to enter.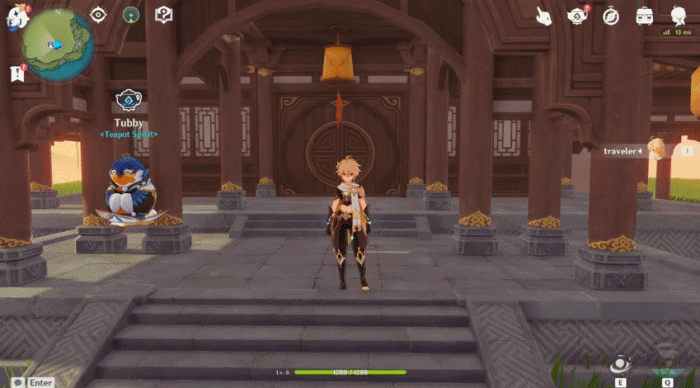 Multiple worlds to explore
Genshin Impact is a free open-world gacha game (similar to the loot box), but with microtransactions within the game, published and distributed by miHoYo. In it you step into the shoes of the Traveler, an explorer capable of traveling through worlds, but who was trapped in Teyvat, a place reigned by the Archons and facing a war against unknown enemies, and must find a way to return to his home world and find your missing twin brother.
And for those starting out in Genshin Impact you still have here at Married Games a Complete Guide to start your journey really well and the Complete list of playable characters so far! Genshin impact is available for PC, Android, iOS, PS4 and, soon, Nintendo Switch and PlayStation 5 with crossplay between platforms.
Excited about your Benster Teapot in Genshin Impact? Are you going to play the matches? Comment and share with your friends who are going to start playing!
Source: Hoyolab