Monster Hunters will have to suspend its plans to assassinate Alatreon, as the fourth free update to the Monster Hunter World: Iceborne title has been postponed, without saying a new release date.
Also check out: Superdata: Digital games have $ 10 billion in sales in March
Capcom announced the delay in Twitter, explaining that the coronavirus impacted production in an understandable way. This resulted in a delay, in addition to reducing localization in Italian, Spanish and French. Therefore, recording voice overs is extremely difficult at the moment, with actors unable to enter the studio to record their lines. They will be replaced by "simplified recordings", according to the developer.
The script below has been updated, but there is no new date at this time. Fortunately, there is still a lot going on, including the rest of the spring event. On May 1st, you will be able to fight with Tempered Archiel Namielle and get another layered armor if you want a new look. There will also be event missions to prepare for Alatreon's arrival, rewarding him with high-level decorations and armor spheres.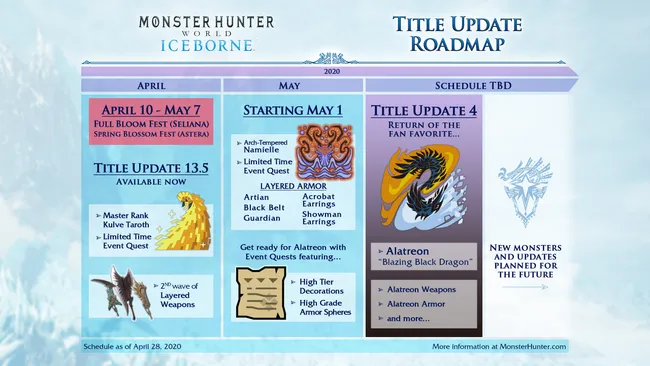 Most events for the base game and Iceborne are being extended for the foreseeable future, while players wait for more news of the title 4 update, to keep you busy.
About Monster Hunter World: Iceborne
"Explore the new world… and beyond!"
Monster Hunter: World adventure reaches new heights in "Monster Hunter World: Iceborne".
Finally with new monsters, new locations, new missions, new weapon combinations and more,
So, Iceborne expands the possibilities of the vast and stunning universe of Monster Hunter: World.
Join the Research Commission and embark on an unforgettable adventure
to the depths of the Glacial Frontier, a snowy tundra that many legendary monsters call home.
Features
New monsters: the number of big monsters jumps from 36 to over 66, with more to come in free updates!
New story: the number of story missions jumps from 25 to over 50!
New locations: explore the icy scenarios of the Glacial Frontier!
New weapon combinations: breathe new life into your combat with a series of new attacks and combos
New armor: dress and personalize your hunter with a wide variety of powerful armor skills!
New tools: turn the tables in your favor with the revolutionary fastener!
New headquarters: form groups and prepare for battle in a new social center, Seliana!
New difficulty: test your strength with a new mission difficulty, Rank Master!
New game over: the journey never ends in the Guidelands!
…and much more!