The gaming industry has already undergone several transformations. It has strengthened with each decade that it has passed and adapted to several eras. From the first consoles, it evolved into new devices, it arrived on the PC and, today, thanks to technological advancement, we can enjoy great gameplay, with the best experiences in our cellular.
The universe of mobile games it keeps growing. Every day, a large company and a developer invests in this constantly evolving market that appeals not only to the company that invested, but also makes life very easy for those who are passionate about games that, simply, can enjoy a good game where when you want.
And it was with this in mind that we created this list, without a ranking, just highlighting the best games available for smartphones. The list is composed of games in its vast majority Free, but with some paid titles, but that have a very affordable value. We also list games of various sizes to suit any type of audience, regardless of whether your cell phone is entry, intermediate or top of the line. They are mobile games of all kinds!
Are you looking for a game on the list but don't have a Gift Card, right? Guarantee yours now on the button below!
Best mobile games
Clash Royale
To open this list, we chose Clash Royale because it is a game that takes up little space in your memory and has incredible content that will keep you hooked to your phone for a few hours of your day. Developed by the mobile giant Supercell, Clash Royale is a game derived from the classic Clash of Clans, one of the most downloaded games in the history of mobile games.
Still following his older brother's proposal, Royale is a strategy game, but its main objective is to defend its three towers - two composed of princesses and one for the king - and to overthrow those of its opponent. Whoever takes down the most towers or who takes down the king's tower wins first. In the event of a tie for time, the one who causes the most damage to the towers wins.
To achieve the objective, you will have several cards represented by troops, which have several characteristics such as spells and special abilities, which you can unlock as you progress and reach the thematic arenas. In addition to troops, you will be able to use spells that helped you to defeat your enemy.
Each card, whether magic or troop, has an elixir cost. You will have a bar that produces the elixir that you load every second. To win, you will have to use the elixir better than your opponent.
Excellent game that allows you to play 1 versus 1 or 2 versus 2, in addition to having a huge variation of game modes, in addition to events, challenges, a battle pass system and clan formation, which can even wage war between clans of Worldwide.
Available free of charge for Androids and iOS devices.
Brawl Stars
Still on the Supercell family, we have a great game that arrived in 2018 and just like Clash Royale, it has everything to please you! This time, the battle shooter Brawl Stars brings us a different proposal than what we are used to with the company.
The main objective of the game is to kill all enemies, whether in singleplayer or multiplayer, and collect as many items as possible to improve your brawler. The game promises a sincere and very fun shooting striking! And make fun of it! Supercell loves to make backgrounds of the characters in a comical way, making us, the players, have a very special affection for each one of them.
During the game, it will be impossible not to admire the details of each action, its always colorful environment and super simple and easy to learn gameplay.
If you are interested in the game, it is available free of charge for Android and iOS.
Free Fire
O Free Fire is the game that came in the right place at the right time. I say this for the resounding success that this game had in the countries of Latin America. Despite its Chinese origin, created by the mobile giant Garena, the game became very popular here in Brazil in 2017, and the brand, aware of this, invested a lot in the competitive game in our lands.
Football teams, famous players, singers and DJs known here and abroad have already been infected by the fever of the game. Cristiano Ronaldo and Dj Alok are some examples that did marketing actions with the game and started to have themselves in the game.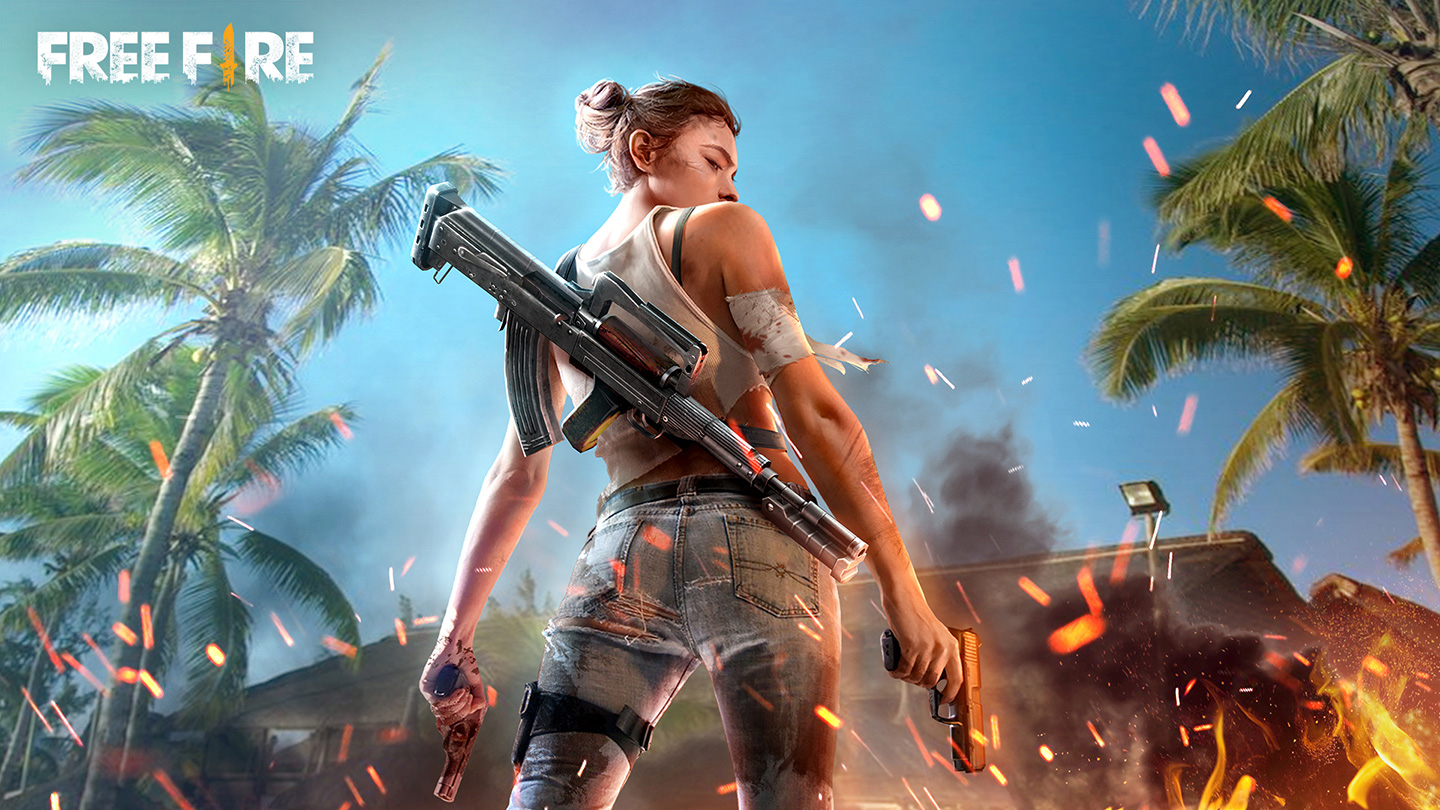 As it is a mobile game, Free Fire is a super affordable game for those who can't afford the most powerful phones. And, despite being a game with light configurations, the game has a simple gameplay with a wide range of weapons. Until today, no mobile game has become as strong as the Free Fire is here in Brazil and, if you let it, the game will go even further.
You can find the game on android devices through the Play Store or iOS devices through the Apple Store.
Call of Duty: Mobile
It is no secret that Call of Duty is one of the most successful franchises in the world and, because of this, could not be left out in a world where mobile is expanding its space more and more.
And its mobile version performs very well everything that promises! The game has super beautiful graphics, despite all the technical limitations of the smartphone. The game manages to bring together content from Modern Warfare and Black Ops at once.
The experience that the player has with this unification of universes is unique. You will be able to play with classic characters like Ghost, Price and Soap. Or operators who have recently appeared in recent titles such as Mara, Alex and Nikto.
A really cool thing about the game is that if you want to play with video game control on the emulator, you will only find players who play on the control too. Thus, the game is not unfair to players who play on their cell phones. If you're looking for a good battle royale for smartphones, CoD Mobile is one of your best options.
Available free of charge on Android through the Play Store or iOS through the Apple Store.
Asphalt 8: Airborn
For high-speed car lovers, Asphalt 8: Airborn is one of the best options. This game easily falls into the classics category when considering racing games, in addition to always being mentioned as a reference for the genre. The Asphalt series has already continued with Asphalt 9: Legends, but the previous title remains the most popular and most loved by fans.
With an above average graphic, taking into account that we are talking about a game from 2013, and excellent map designs, the game has already guaranteed us hours of gameplays. Races are often quite exciting in both singleplayer and multiplayer. The game has incredible gameplay with emphasis on the mechanics of nitro and slow motion when you eliminate an enemy, bringing us excitement to the finish line.
Asphalt 8: Airborn is a game beyond its time. Even with other options of the genre, the game remains one of the most downloaded and fun of all time when it comes to mobile games.
Available free of charge on Android, Microsoft Windows and iOS.
Minecraft
The world is square! In a list of best cell phone games, one of the most popular games in the world, the square universe of Minecraft.
The famous game that has its version for consoles and PC is also present in the world of mobile games. The mobile version of the game, as expected, is quite limited compared to its other versions, but it can still be enjoyed by fans of the game.
Unfortunately, Minecraft it is not a free game in its mobile version. However, it has a very affordable price. You can buy for a price around R $ 37,99. Buy without fear because it will not be a badly spent money. There you will be able to unleash your creativity, explore and enjoy the game that is a huge worldwide success.
You can buy on Android, Windows Phone, Windows 10 Mobile and iOS.
PUBG Mobile
PUBG is one of the battle royales that propelled the genre to the popularity it has today. And as a result, the game won a free version for smartphones. The arrival of the game to the mobile world, made the title community here in Brazil grow even more.
Not as accessible as Free Fire, the game despite demanding more advanced requirements did very well here in our lands. A simple gameplay and true to its version for PC and consoles. The game remained fun and, I venture to say that, in 2021, its mobile version is more attractive than its original version for video games.
To serve the public with entry-level or intermediary cell phones, PUBG Mobile has a Lite version that is very light and low on almost any smartphone. It is worth checking!
You can find the game on android devices through the Play Store or iOS devices through the Apple Store.
GTA San Andreas Mobile
One of the greatest titles in history, from the classic Playstation 2, Grand Theft Auto: San Andreas also made it onto this list of best mobile games.
Rockstar decided to present fans in 2014 with a mobile version of one of the most striking games of our generation, giving us the grateful experience of playing this great success on our phones, as if we were on PlayStation 2.
The game is literally the same version that we played on the console, so we can run over people, rob cars and do the classic missions in the same way as before! The launch of this game for cell phones, brings us nostalgia for one of the best moments of our life in front of the TV. The game is not free, but you can find it for less than R $ 20,00.
You can buy the game through the App Store and Play Store.
League of Legends: Wild Rift
The "lolzinho", famous for being part of the life of almost everyone, won its mobile version and everyone is excited about this game that was so expected in the world of mobile games.
The MOBA that only had its PC version, Riot finally released the long-awaited League of Legends: Wild Rift. And, despite carrying the same name, the game is a little different from the one that everyone knows.
The 5v5 MOBA experience full of League of Legends skills and strategies (and everything done from scratch for mobile devices and consoles!). With new controls and fast-paced matches, players of all skill levels can team up with friends, choose their champions and make great moves.
Everything you need to know about LoL Mobile, check out this article that will let you know everything about the game. Click here.
You can buy the game through the App Store and Play Store.
Among Us
The game, despite being released in 2018, had its huge success last year. Perhaps the most popular mobile game of 2020, Among Us saved many people from boredom in this quarantine. This year also marked by arousing people's interest in indie games and proving that games don't need great graphics to be fun.
The game despite being simple, it is possible to bring us feelings of tension to happiness. Whether you are a suspect or not. The main objective is to find out who the tax is among the people who are present in the game room. Fun for anyone looking for a simple, lightweight and easy game to play with friends. But if you don't have that many friends, you can still play with random people.
The game is available for Androids devices through the Play Store or iOS through the App Store.
Plants vs. Zombies 2
One of the most iconic games of all time in the mobile world could not be left out of a list like this. Plants vs Zombies 2, despite being a relatively old game, is still one of the most fun to pass the time. Who knew that the unlikely mix of plants and zombies would work so well, right?
"Meet, greet and defeat legions of zombies from the beginning of time to the end of days. Gather an army of powerful plants, overload them with fertilizer and discover incredible ways to protect your brains. It's a constantly expanding universe full of fun! And zombies - lots and lots of zombies. "
Tower-defense worked so well for cell phones that it even reached consoles and PCs, making the legion of fans around the world grow even more.
Plants vs Zombies 2 is available for free for both Android and iOS.
Pokemon GO!
Who does not remember the fever that was the launch of Pokémon GO? My God, it looks like it was yesterday that the kids gathered in the corners of the cities walking with their faces stuck in their cell phones. My mom even told me to be careful because I could be distracted by hunting Pokémon and have an accident, or just fall into the lake near my house, as was the case with a boy from my town. Well, stories aside, the game was a success and remains today.
Hunting for a legendary Pokémon was fun and nowadays, even though it doesn't have the same popularity as before, you still find a group of young people gathered together to be able to duel or hunt Pokémon together. Well, if you still tried Pokémon GO, go running and download it because you will surely enjoy it! But be careful not to have an accident hunting Pokémon, huh?
What did you think of the list? Is there another game missing? Comment below your opinion! And, if you want to follow everything from the universe of games and technology, access our content and stay on top! Click here.