Eletronic Arts releases a new content pack for its life simulation game. The Sims 4 Dream Decoration arrives on June 1st
As if you didn't have a lot to decorate, create an exclusive design and make the biggest aspirations in The Sims, Eletronic Arts has released its next content pack with the theme of decoration and architecture. Announced today with an official trailer, The Sims 4 Dream Decoration will arrive at the game on the 1st of June.
With this package, in addition to hundreds of pieces for you to decorate your sims' house and change their appearance, clothes and hairstyles, the game will also bring the career of Architect. The player must listen to their customers, understand their desire and make their home as beautiful as possible, thus earning respect and fame in the sim community. Which will give you more jobs and more money. Of course, all within budget.
Watch the trailer for The Sims 4 Dream Decoration:
The Sims 4 Dream Decor is about listening to and understanding sims
We will accompany decorator Patina Wainscot who will explain everything that is new in the package and will give you tips to become a successful decorator in The Sims 4 Dream Decoration package.
All about customers
South South! I'm glad you joined me today for what I call Dream Home Decorator 101. We are delving deeply into the intricacies of customer design because that's the main thing to remember: it's all about making your customers happy!
Believe me: the best designs start with the Sims you're creating for. I never go into a project without first meeting my clients - at least, I don't intend to succeed. In my early days, I made many mistakes. Once, I planned an entire space around the gnome statue in the middle of my client's living room - I discovered that Sim was scared of the gnome and wanted him to leave!
Everyone has preferences, you know? Likes and dislikes are important when it comes to decoration. So ask questions! Discover your favorite color, music genre and decorating style. Ask about the things that inspire them, if they have any hobbies, what are their favorite pieces.
Stroll through color samples and perhaps some of the work in your portfolio. Take some "before" pictures for the customer as well. After all, the more you know about someone, the easier it is to imagine a space that really brings you joy.
Remember to stay professional, however! (Take a shower before you arrive. Trust me.) Each interaction impacts your reputation, and if you want to get bigger jobs, it matters.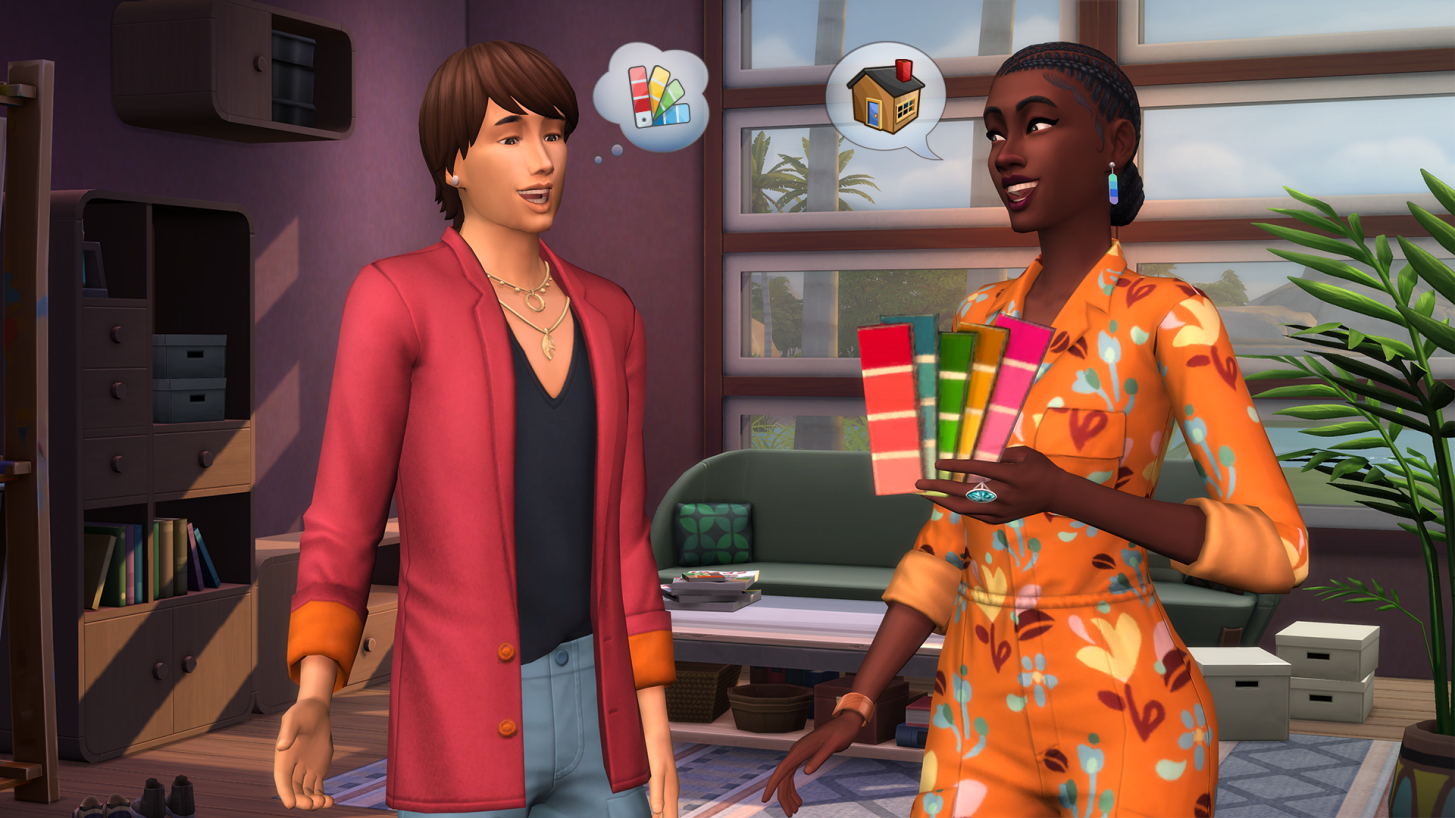 All about renovations
Once you feel what your client wants, take him / her and turn your attention to the space around you. Sometimes customers want to redo everything and add a studio. Once there was even a yes that asked for a gym in the basement. Whatever the task, I am sure you are ready for it. Just follow the budget, customer preferences, available parts count and the customer's actual request.
(An addendum: well, yes, sometimes orders get a little… weird. It's your job to do what you can, although if I could I would share some… crazy stories, but that's a confidentiality secret between client-designers. professional courtesy.)
Start with an empty space selling items you can't use (it's a good budget tip too!). So it's up to you to make your client's dreams come true.
I personally love this phase of a project. Maybe Sims tend to be a little messy, so why not play around with modular shelving for innovative storage solutions? The open concept is in fashion now, and the sectional sofas perfectly divide the kitchen spaces, while maintaining a spacious and airy atmosphere. And speaking of the kitchen, built-in appliances like ovens and stoves also save space. For children's rooms, bunk beds are my choice. As the kids grow up, it's easy to change the setting and add a table for homework!
My point is: don't be afraid to play. Sometimes the unexpected works better and sometimes you will have a tried and tested solution in mind.
All about revelations
After finishing the job, there is only one thing left: the revelation! After perfecting the space, invite the customer to come back to see the results. Personally, this is the moment I live for. That first reaction means the world to me. Whether Sims cry, throw their arms around me or immediately start daydreaming, I always know when I've done a good job and it's incredibly fun to show the "Before" and "After" photos.
Many factors influence whether a presentation is successful or not. Did you stay within budget? Build around your customer's preferences? Did you complete your goal? Were you respectful and fun? Fortunately, the answer to all of these questions is "YES!" This not only makes your customer happy and makes you feel good, but it also improves your reputation as a decorator. After all, people love to talk about things they love. So make them love your space!
Some extra tips
Speaking of reputation, the more you spread your name, the more jobs open up for you. Start with something small, like a room remodel; when you reach my level, you will redesign the neighborhood! Customer referrals make a real difference, but I used to blog and promote myself on social media as well. Now you can watch me on the home decorators channel!
Each Sim is different. I know, I know, I've said it a few times, but I'm serious! In homes with more than one occupant, it is sometimes difficult to balance what they want. Perhaps two Sims have different color preferences; if you can't make the two work together, find some common ground to focus on. And never assume that you know what a customer is going to ask for! Once, an adult customer asked for a room for children - I found out it was for their nephew!
And last but not least, the most important piece of advice I have: have fun with it. Remember to post that you chose this path. After all, you are a dream housewife.
Build your dream home in The Sims 4
The Sims is a life simulator developed by Maxis and published by EA Games. In it you create your characters, build houses as you want, you can get a job, relationships, create a family or do what you want. The franchise has several titles and several spin-offs, released for PC and several consoles such as PlayStation, Xbox, Nintendo Wii and even for Sega's Mega Drive.
So, did you like the new The Sims 4 Dream Decoration package? Have you ever thought about being a decorator? Tell us there in the comments and take the time to read more about The Sims on our website.